Great website design can be affordable! We create sites that are easy to use, create interest and help build your brand – all at a reasonable price. Our websites are designed to uniquely reflect your business while keeping the end users experience in mind.
At TOTL Marketing, we take the time to understand your business and the special features it has to offer. We stay in touch through the design process to make sure your site represents your business properly.
Visitors often find your site from a search engine result. The sites we build are optimized for search engines (SEO) with words and terms that are specific to your niche.
Good layout and overall design may attract attention, but regularly updated content will most likely be the determining factor of return visits. Sites that stay at the top of rankings are the ones that excel at providing fresh, quality content.
RESPONSIVE WEBSITE DESIGN
Responsive designed websites adapt to the device the visitor using, whether a desktop computer, tablet, or smart-phone. All of our web design projects are built with this feature.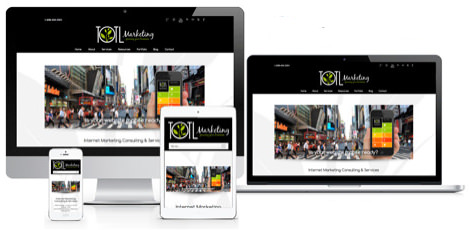 Mobile-Friendly Website Design Is Crucial Today
In the spring of 2015 Google made the decision to lower mobile search rankings for sites that were not mobile-friendly. If your website does not have this feature, customers may even have a harder time finding you when searching on their mobile devices.
Mobile viewers are on-the-go and looking for what you offer, where you are located, when you are open, and the ability to call you easily. A thoughtful layout that is easy to navigate is important.
A few facts about mobile use:
It takes 26 hours for the average person to report a lost wallet. It takes 68 minutes for them to report a lost phone. (Source: Unisys)
70 percent of all mobile searches result in action within 1 hour. (Source: Mobile Marketer)
90 percent of all U.S. citizens have their mobile device within reach 24/7. (Source: Morgan Stanley)
Find a possibly surprising report about mobile use from Google at SearchEngineLand.com
WORDPRESS BUILT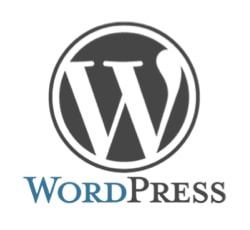 Our websites are built using WordPress – the #1 Content Management System today. With almost unlimited options, you get the look of a custom built site without the high price of a custom built website. We also use WordPress because of it's ease of use which enables "hands-on" clients the option to perform their own basic editing or posting with just a small amount of guidance.
WordPress Facts:
Currently there are over 75 million WordPress sites on the internet
Big businesses that use WordPress include: The New York Times, The NFL, Ford, eBay, CNN and Forbes
Over 403 million people view more than 12.9 billion pages each month
22 of every 100 domains created in the U.S. are running Word Press
Of the top million website sites with a CMS distribution, over 55% are developed in WordPress (followed by Joomla, then Dupal)
WEB HOSTING
Reliable website hosting and security is a key factor for your site. Extra efforts are taken to keep your site secure when you host with us. We offer different levels of security to choose from and can help you decide which is the right fit for your business.
We also offer updating services when changes to your website are needed. Our quick response time is something we are proud of and our clients really appreciate. This service is an excellent choice for keeping your website content current which is essential.
From designing a new website, updating your current site, or making your site mobile ready – we can help make that happen.
Find out how affordable our pricing can be!