SEO – Search Engine Optimization
About SEO
SEO is the process used to help the search engines rank your website for the relevant information you have to offer someone who is searching for a specific term. It can help your website rank higher in organic (natural) search results, thus making your website more visible to people who are looking for your product or service. It is important that your website is set up so the search engines can find your website, index your content, and display your landing pages in their search results.
Without the knowledge and use of SEO practices this can be incredibly difficult. We have gathered together some of the basic key elements of SEO to help you understand the importance of SEO.
SEO Components
KEYWORD RESEARCH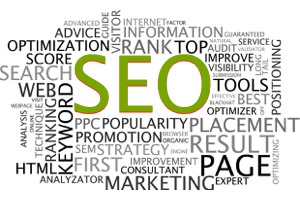 Keyword research is the process of finding the highest searched keywords that are relevant to your business.
It's where you will start the optimization process and the beginning of SEO. No matter what your business or service, there are hundreds of words to describe it. These will be your keywords.
An easy way to start thinking of what your keywords might be is think about what terms would someone use to look up your business in say, a phone book. Think of all the different terms and write them down. You now have a starting point.
The next step is finding out the ranking or in other words how often are they used compared to other related terms. This is where the research comes in. There are keyword tools that can be purchased. Google used to offer a free Google Keyword Tool, but it is no longer available.
Our company uses various tools to find the right keywords for your business and the ones that are trending right now in your industry, making sure your online presence has the keyword foundation that is vital to your success.
Choosing your keywords is very important for finding the people who are looking for you. They will be the words they enter when performing searches.
PAGE/SITE OPTIMIZATION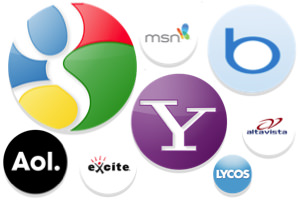 On page optimization is the process used to make your website's content the most relevant to search engines.
Getting your website to the front pages of the internet can be quite a task. Search engines are always changing their algorithms to supply the best search results for internet queries. Optimizing your site and the pages on your site is an important part of getting found online.
Meta Title Optimization – Your website title is the most important website optimization element. A title tag should be short but descriptive enough for your visitors to identify you and your business. It is the first thing shown and indexed by search engines. Your meta title must have strong keywords but also be highly relevant to potential online searchers.
Meta Description Optimization – The meta description is the snippet or short paragraph that give a synopsis of your websites relevance and content. Meta descriptions should be around 200 characters and involve relevant content (strong keywords which you would like to rank for) for search engines. It should have people friendly content so searchers will click to your site. Include your selling point like "open all night". This gives you a step up over the more generic listings.
HTML Optimization – It's necessary to highlight certain parts of your website that you want search engines and your readers to look at. There are several html tags you need. For instance – the header tags, [h1] [h2] [h3], Bold [strong], italic [em] etc. When you use these you are highlighting the most important parts of your page to both humans an web crawlers.
Header Optimization – Header 1: Should define the most important section of your page. Usually it's used for a site's title or header text. This is the most important of all visible content for your site like the title of a book. It should describe what your site is about right away, and will most likely have your most important keywords in it. Header 2 & 3: They can be used for a Page/Post titles or important sections of your pages. Having your content separated with headers is a good thing to do as it makes your site more readable and easy to navigate. A sites header 2 & 3 are like chapter titles that tell what each portion of the page is about, with a more narrow focus.
Text Styles – You can go bold [strong] with certain words that are of high importance. Use it on keywords where it is appropriate, but overdoing this may get you penalized. You can also use italic [em] to emphasize certain words which will appear in italic.
Keyword & Content Optimization – You will need to have some sort of balance between your keywords and content. Keywords should be sprinkled across your website's entire page content. If you place your keywords too close together, you might raise some red flags for search engines.
Synonyms & Related Keywords – Use these instead of having a high keyword density. This helps to make your content sound more natural but still helps SEO.
Long Tail Keywords – It is also a good idea to optimize your site for long tail key phrases. This allows you to rank for less competitive phrases and get you a few more queries. To do this, add adjectives such as best, local, cheap, and affordable to your already existing key phrases.
Internal Link Optimization – This is the process of creating internal links from the pages of your website, to other relevant pages of your site. Use keywords in your link structure. For instance, if you are linking a page about keyword research, having a good clean Link Structure with proper use of anchor text will definitely help search engines find your site more relevant. This also allows users to find more relevant information.
Picture Optimization – Images cannot be read by search engine crawlers. This is why you must optimize each of your website's images so they will get the proper recognition. Use the alternative tags or alt tags to accommodate this. Instead of saving a picture a picture1.jpg, name it what it is actually about with proper keywords such as local-flooring-store.jpg or lakesidecompany.jpg.
Video Optimization – Optimizing videos for such sites as YouTube and Vimeo can enhance the chances of you video being viewed by the audience you are trying to attract.
DIRECTORY PLACEMENT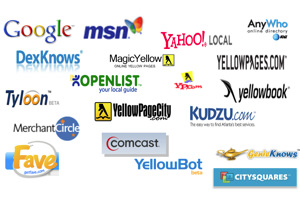 Directory placement is the process of placing your business information in online directories. They are the equivalent of the Yellow Pages or other business advertising phone books. Every directory should showcase your company's name, contact information, description, products, services, photos, and website address. They can receive a lot of search queries and may offer a link to your website, which helps increase your website's ranking and traffic.
What to look for in an Online Directory
It should have a high page rank.
Make sure it ranks in search engines. If you are doing a search for your company's service area and keyword, use the same directories your competition is using. Some have just filled out the form. When we perform our listing service we know the all ways to get the most out of each listing we create for you. Paired with a quality SEO optimized website linked to it and you have a chance to out rank a lot of the competition.
You should be able to place a link to your website. You will not get your website credit for link building if it is a "no follow link".
Make sure you can showcase your business with photos, blogs, etc. All these should help your customers find your listing more relevant to their needs.
Reviews are also very important. you should actively seek out reviews in online directories. This will help your rankings, even in Google Places. .
There are thousands of online directories to choose from. There are no bad directories, just some are far superior to others. Some great online directories are Google Places, Yahoo local business, Bing local, Merchant Circle, Brownbook, and Hotfrog.
Of all the places to list your business, Google Plus Local/Places should be your first step. With around 80% of the search market, Google has become as large as they are by always thinking of how to make "search" as easy and efficient as possible by trying to weed out disreputable sites. Their goal is for people to find what they are looking for and they judge sites by the information and value they bring to their consumers.
LINK BUILDING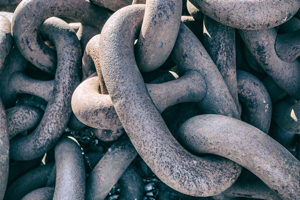 Link building is a great way of building off site optimization by using quality external links from other web pages that link to your website. The more links you have, the stronger your online presence becomes.
Some examples range from business directory submissions, blog or article submissions, social bookmarking, blog or forum commenting and press releases. Using all of these combined will give you the necessary vehicles to form back links from.
When looking for different ways of link building programs, make sure to look for these specific traits.
Links that deliver traffic continuously. Place your online content in directories with high volume. These sites usually don't offer a huge amount of traffic, but eventually it builds up. Also, other sites may begin linking to this site making it an even greater asset.
Links that are on a promoted, shared and on reliable page. Best examples are Facebook and Twitter. These links go on a page that the publisher markets and shares through email newsletters, or by their social media connections.
Links that connect to a targeted audience. If your company offers a product or service, put it right in front of them. Just make sure your site is relevant.
Links that create "brand juice" to your website. These links can provide value for your website, which makes your site more reputable to online searchers.
Links that direct visitors to a conversion or other significant brand interactions Links to your home page are always great, but having links to your main sales page or your call of action page are more beneficial to your SEO campaign.
Links that are followed and have targeted anchor text. Anchor text is a word or phrase on a website that links to another site and describes the site within its text. Anchor text: Visit us online for local SEO services. Generic Link: Visit our website.
When building back links you should always take into mind what your business goals are, and how your clients search and buy. These guides should be kept in mind for better link building opportunities for your website to grow, not just a strict set of rules to follow for link valuation.
Links from sites with relevant content. Search engines consider the source of an inbound link when they determine how much weight to give it. So if an authority site on photography links back to your site on cameras, the search engines will give this link more weight than they would to one from a free link exchange directory.
Links from sites with higher page ranks. Google has an algorithm called page rank. It starts at 0 and goes up to 10. Google is a 10, Youtube and Facebook are both 9, and a brand new site has a page rank of 0. High page rank sites are considered to be more reputable than those with lower ranks. Backlinks to your site that come from high ranking sites will offer you not only votes but quality votes. This is a very important process of Search Engine Optimization.
Links extensions that matter. Search engines will tend to give more weight to backlinks that come from well established sites with .com, .edu and .gov extensions. They tend to assume that the information is more reputable than sites are less known like .info or .us extensions. These links can be very hard to get, but if you can get linked from ones of these sites your rankings should increase dramatically.
Number of links to your site. The more links to your to your site the more reputable your sites content will be in the eyes of search engines. But, too many, too fast will cause your site to be considered a spam site. So get as many as possible but space them over time.
Link building is an art form, a soft science. Search engines are constantly changing their ranking methods, but backlinks have always been a major part of the game.
SOCIAL NETWORKS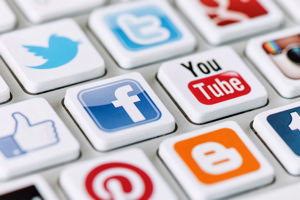 A key component in marketing your business.
A social network is a social online structure made up of connections through interdependent actions such as clicking like, adding online social friendships, or having mutual interests.
Those and many other factors are what makes social networking such a huge factor when we build links to your website.
When you build your online content it is imperative that you link it to as many of the larger social networking and bookmarking sites as possible. The more you do this the more others will link to you, share your content and add it to their online repertoire. This allows other people do a lot of the work for you.
Being clear who you are marketing to will help guide you to the sites that will work best for you. Not all social networks are created equal for your needs. We will make sure your time and money are spent on the ones that fit your business.
A Good Start List:

Facebook
YouTube
Twitter
Pinterest
and other popular online social networks.
Social networking is now just about as important as local SEO and gaining more importance in marketing today. Google just added the "+1" and Bing just incorporated the Facebook "like" button. This is because search engines now place some of the responsibility of ranking web-pages from our input through social sharing plugins, etc.
When it comes to interacting with new or potential customers, social sites allow you to develop a relationship that was not available before. It is a powerful and wide-reaching way to spread the word about your business and should be a part of your marketing campaign.
VIDEO OPTIMIZATION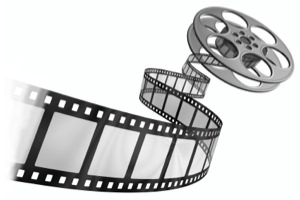 There are many companies out there with great videos for their business that don't get many views. All that work with hardly anyone to see it.
Each video should have your online contact information and a link to your website. These optimized videos will act like short commercials for your business 24 hours a day when people search for your products and services. Make sure your online videos are dispersed through all the major social networking sites and get views through front page listings.
They should be useful and informative. If your video is about your appliance repair service, make sure the customer gets a visual of new appliances you offer, specials, and contact information for more info. Vague or general videos that have nothing to do with your brand or service will just confuse them. Don't upload a video just for the sake of having one.
SEO Video Fundamentals:
Optimize your online videos for your targeted keywords. Place the keyword your clients will be searching for in the title, description, and tag sections of your video. Without these chances are your video will never be seen by your targeted audience.
Give your video a Catchy Title. Videos are a great way to increase traffic to your website and can give you branding power. A catchy title with a related key phrase that is relevant to your product, service or brand is important.
Tag Your Videos. Tag with key phrases that reflect the content.
Use Video as a Portal to other Content on Your Site. You can upload a content specific video online and link it to the relevant page inside your website.
Keep Your Videos to five minutes or less. If it's a commercial keep it under a minute. If it's too long, you should break it down into sub videos. This makes for better viewing and can keep the user looking for more. There's nothing worse than a long, boring video.
Brand your video with your Logo or Watermark. This is a great way to generate brand awareness with your viewers. Let them know who you are!
Inbound Linking Factors Link to videos using important keywords in anchor text Be sure to link your video accounts (especially Youtube) to other social networking sites through your activity sharing option. When you upload a video or hit like, a link gets sent out to your Twitter, Facebook, Myspace etc. This lets search engines index your videos faster and gives you a better chances of showing up in search engines through social link building. This also allows other sites automated features to pick up your new video and advertise it on their website.
Allow the Option to Embed Your Video. This lets other users have access to the coding that will allow them to embed your video on their website. or blog. Most video submission sites automatically allow this. It's a great way to let your video go viral.
Let Users Rate your Video. Videos that get higher ratings from users are the ones that they tend to favorite and save. Search engines pay attention to this when ranking these videos.
Remember to Syndicate Your Video. Submit your video to RSS
SEO Results & Reporting
We provide you the reports necessary to show the results of our SEO services.
Search Engine Ranking Reports: Where your website ranks and what keywords it is ranking for.
Website Traffic Reports: This is the main part of reporting for your local SEO campaign. Generated by placing Google analytic codes into the meta (invisible) coding of your website. We examine these reports in order to spot problems and correct them, or share good news.
Proof of Results: We believe that doing a great job for you is our highest goal. Proving it is key. If your current SEO consultant doesn't do this, demand it! If they don't, chances are they have no idea if your account is working or not.
Good SEO Hallmarks
Writes Great Content: Great SEO writing is really a balance between pleasing a Google search bot and still have the content entertaining and professional. It needs to be smart with the right keywords, yet fun to read
Keeps Your Site Active: One of the main ways you up your ranking success is to regularly update your website. When Google looks at all the businesses in it's database and needs to decide it's top websites, activity is important!
Feeds Your Site the Right Diet: Will make sure you're not trying to become too big, too fast, using bad tactics. Will make sure your site gets stronger the right ways. Google prefers a slower pace, consistently over time, for inbound links. It does not want to see a mass injection of your homepage links on hundreds of websites in one hour.
Evolves: Ever changing, SEO companies need to stay on top of current trends. It gives you the edge on your competition and is vital for the growth of your business.
Need help with SEO? Contact us.